My bass amp needs some love. It's been a few years since anything good was done to it, the pots are scratchy and the inputs don't always work, so it's time to blow it open and do some much-needed surgery.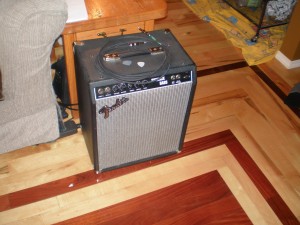 About 15 years ago I found a "Fender Sidekick Bass" amp in a pawn shop and picked it up. It's a crappy little solid state amp from the late '80s, made in Taiwan.  It has a large sound for its size, and has taken a lot of abuse over the years without quitting.  Until recently, I haven't had a bass that was worth anything, so I've never replaced my amp; I have become quite attached to it.  I've been going to an acoustic jam once a month since September, and my acoustic bass just doesn't have enough volume to cut over all the guitars, so it was suggested that I bring an amp.
Now when playing along with electric guitars, I'd just crank the amp up to ten and leave it. However, setting the levels right with a bunch of acoustic guitars is a bit different, and it turns out all the pots on my amp have gotten a bit scratchy over the years, making it nearly impossible for me to set a level that would work between 2 and 3 on the dial. I got to endure a lot of "turn it up, we can't hear you" and "I can't hear the singer, turn it down". Not a good impression to make on a bunch of people I'm just getting to know.
Working on a late '80s solid state amplifier is like working on a late '80s minivan. No matter what you do to it, it will never be "good", and will never be classic. The best my amp will ever be is a late '80s low power solid state amp.  But my free time is "free time", and the cheapest comparable bass amp at Long & McQuade is probably the Rumble 15 or 30, for between $100 and $200, so even if it will never sound "good", fixing it is better than spending $150 on an amp that will also sound like crap.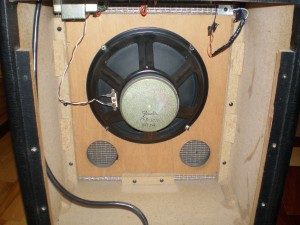 When I opened it up, I remembered that I had "fixed" this amp before. Quite the ball of tape hanging from the input wires.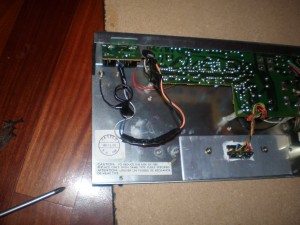 The nuts on the input jacks stripped maybe ten years ago when I was working for a friend at his guitar store. We had a dead amp there with the same jack spacing, so I swiped the inputs from it. The Fender amp had a larger circuit board with resistors on it to separate the two input signals, but the replacement didn't, so I guess I must have found two resistors lying around and just jammed them inline.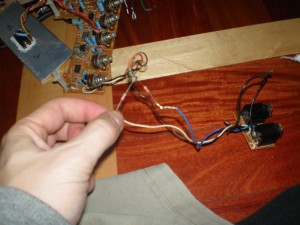 This will have to be remedied.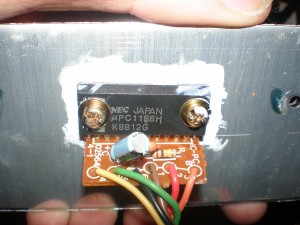 This is what runs everything. I grabbed the Bipolar Analog Integrated Circuit uPC1188H datasheet to check it out, but I haven't checked the little board that's attached to see how it's used in my amp. It is the same chip amp as the Princeton stereo chorus, and is still used a lot.
More to come, second part is on the way.