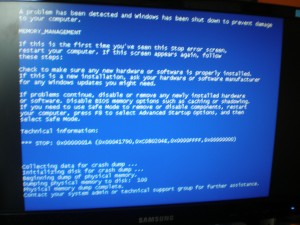 It's a little shaky from the rage, but here's what I get.
MEMORY_MANAGEMENT
 *** STOP: 0x0000001A (0x00041790,0xC080204E,0x0000FFFF,0x00000000)
That's pretty technical. WTF.
There are suggestions online for this. Raise the memory voltage. Replace RAM. Replace video card (done). "On Vista and Win7 you can run mdsched.exe — once rebooted to the scanner press F1 for Advanced options and run the "extended" tests." I don't see how that could catch something that MemTest86 can't, but what the hell. Some say it's Google Chrome's fault (No). Drop the RAM frequency. CPU temps too high (no). I already rebuilt my pagefile and ran the intel rapid storage tool to verify the drives on my RAID array.
Everyone thinks they're a goddamn expert with computers. The flood of misinformation is insane.
So running BlueScreenView gives me some other cryptic messages. 16 blue screens in 17 days.
And it crashed while writing this.
On reboot, I dropped the RAM from 800 to 667 MHz, and upped the DRAM Voltage from 1.8V to 2.0V. Just for shits and giggles. I also ran mdsched.exe to scan the ram on the next reboot. This BlueScreenView Report shows what I've dealt with the past two weeks since installing Win7.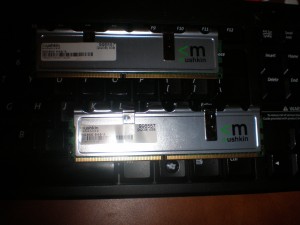 Still locked up with lower RAM speed and more volts. mdsched.exe said I had RAM errors! Ran Memtest86+ v4.0 again, and passed, but I tried probing the memory size and it locked up and scrambled the screen. Don't know if that's normal. I put it back to stock speed and voltage, re-probed in memtest, same problems.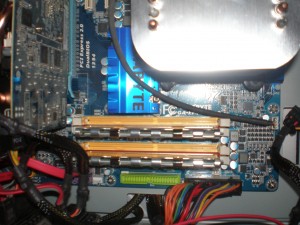 Switched from slots 0+2 to 1+3. Probed the memory size, and it didn't crash. It still runs dual channel interleaved, so I'm going to try it like this 'till it crashes. Then I'm going to pull a stick, and then swap sticks. After that, I'll get new RAM, and then I'll shoot myself in the face.
Mushkin has a lifetime warranty on RAM. I'm hoping my motherboard just has crap slots, and that everything is fixed now. They still sell this kit for $80 locally, but they don't sell single sticks, so if one is gone, I'll want to replace both.
Quick update: It's still broken.